The Samse Group really cares
CUSTOMER SATISFACTION
Every company and every group makes customer satisfaction their number one priority.
Of course they do; without their customers they would be nothing. But every company has a different idea of what that means, their own take on keeping customers happy. The Samse Group sets great store in being local and approachable, being there for our customers, and training and fostering expertise in our staff to make sure it happens.
Our staff are there to listen to our customers, help them and find out what makes them tick. And each Samse employee does their bit towards the team effort, whatever their job. But the Samse Group goes further than that: we care not only about customer satisfaction but also about keeping our staff happy and, rarer still, our suppliers on board.
See the workings of a company that stands out from the crowd.
Training| Expertise | Approachability| Openness | Reactivity| Exemplary conduct | Commitment on the ground | Local involvement | Empowerment| Loyalty | Conviviality | Simplicity
The Samse Group has always been at the service of those looking to construct and build sustainably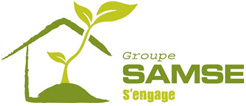 As key players in the building and civil engineering industry, we are very concerned by environmental problems. We felt it was our duty to give in-depth consideration to our corporate social responsibility, and this involved taking a long, hard look at our internal and external procedures and our investment choices.

Sustainable development now lies at the heart of everything we do. Our commitment is the result of a sincere, in-depth approach to business.
Property assets: making careful choices
At the Samse Group, we own most of our sites. Managing our assets independently enables us to operate with more autonomy. Our site installation and renovation strategy is founded on excellent on-the-ground knowledge. In implementing our proximity policy, each local company acts on behalf of the Group as a whole while playing a full and active part in the local area.