Label
Purchasing and Marketing Manager
Label
Management Control Director
Label
Regional Director for Rhône-Alpes
Label
Regional Director for Auvergne-Centre-Val de Loire
Label
Regional Director for Aquitaine
Sous titre
Doing our bit to improve public utilities
Managing water resources sustainably is one of the key issues of our time. Christaud and Vaudrey, distributors of materials and solutions for drinking water conveyancing, are confident in their ability to serve the industry players.
Paragraphes

A strategic alliance
Christaud lies at the heart of a French Network of water specialists that brings together the key players in the drinking water conveyancing industry. "Its mission is to organise and share services such as purchasing, logistics, training and marketing," says Christian Rossi, Managing Director of Christaud. By pooling its expertise, this Network aims to cover the whole of France by 2025.
In 2018, the French Network of water specialists includes Christaud, Vaudrey, BillMat, BTP Adduction d'eau and Simc Adduction d'eau.
Closer cooperation deal with BillMat
Beginning to run out of room for expansion in the eastern half of France and centre of the country, Christaud began pursuing growth in the north and west by acquiring a stake in the capital of BillMat Canalisations. With 6 branches, this company therefore joined the French Network of water specialists created by Christaud in 2016.

Christaud is proud to celebrate 250 years in business!
1766 is quite an impressive date, isn't it? The company first came into being in Grenoble as a copper and bronze foundry under the name Pascal. By the end of the following century it was marketing valves and appliances for fountains, fire pumps and general plumbing fixtures and fittings. After the Second World War, Gaston Christaud took over the foundry, naming it after himself. It joined the Samse Group in 1988. In 2007, director Christian Rossi developed the Log'eau platform and acquired Vaudrey, a specialist in water metrology, metering and conveyancing. Nine years later, the company celebrated 250 years of growth, expertise and enthusiasm for the business!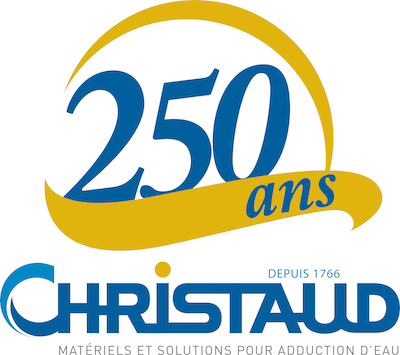 KEEPING WATER FLOWING SINCE 1766
Guaranteeing the water supply is a real challenge given the layout and poor state of the French water supply network. We offer a service almost unrivalled in France thanks to the quality of our storage plans, in terms of both the breadth and the depth of our range, but also thanks to the industry expertise of our water conveyancing teams. With a view to expanding to cover the whole country, we set up the Network grouping which brings together all our brands and services.
.